Luxury Sheeting: Cotton? Bamboo? Thread Count?
Luxury Sheeting: Cotton? Bamboo? Thread Count?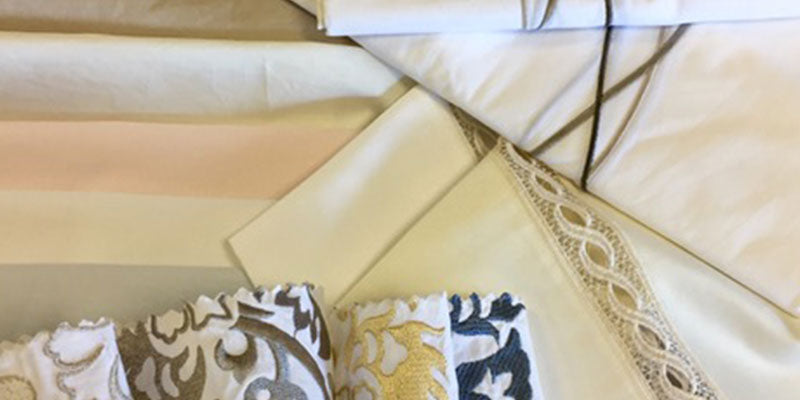 It's a fact of modern life…More choice leads to more confusion!  And like anything else, buying sheets can be a daunting task!  Cotton?  Bamboo?  Thread count?  Some basic information can go a long way to help you love your bedding again…        
Cotton has been the "go-to" fabric for sheets for hundreds of years!  But not all cotton is the same…the longer the fiber, the better it can be spun into a smooth, strong, luxurious yarn.  Egyptian cotton has the longest fibers, therefore producing the most sought after sheeting. In addition, fabric finishing determines the ultimate texture, color, feel and softness.   Do you prefer Percale? Sateen? Jacquard?...Suite Luxury's extensive sheeting collection can help you find the EXACT cotton sheet that feels the best to YOU! 
Suite Luxury's bamboo bedding collection--made from 100% rayon twill bamboo fabric--provides an incredible night's sleep!  Bamboo is naturally antimicrobial in nature, so bamboo sheets are also antimicrobial, meaning people with allergies and/or sensitivity to dust mites will sleep better and breathe easier.  The unique technology used to make fabric from bamboo fiber creates a temperature regulating fabric that keeps you cool if you're hot, and warm if you're cold!  Luxuriously silky to the touch, bamboo gets softer with each wash, yet lasts longer and is more durable than most cotton sheets.  Bamboo is an eco-friendly choice as well because it is natural, renewable and sustainable...
Thread count is NOT the only measure for high quality linens!  Thread count only tells you how many threads there are in a square inch of fabric—it does not tell you what the quality of those threads are, or how they are woven or finished!  Bottom line:  when you crawl between the sheets you want to be covered in softness and comfort, not numbers!  Everyone's taste is different, so choose what feels good to YOU!
Still confused?  The only real way to know what works best for YOU is to come in to Suite Luxury and FEEL the difference…we look forward to helping you LOVE your sheets!
Suite Luxury of Naples Admin